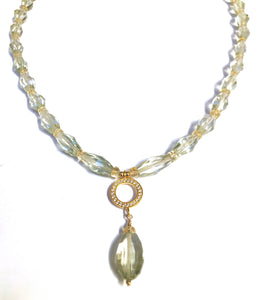 Green Amethyst Faceted Elegant Necklace
Regular price $495.00 Sale
The conical shape of these green amethysts is created by careful gemcutting. Not only are they cut in a conical shape, but they are also faceted. In between each green amethyst is a cylindrical cut citrine gemstone. Elegance is the name of the game with this necklace, perfect color for any skintone, any time of the year.
With a four leaf clover 18kgp drop set with paved white topaz gemstones hosting a citrine and faceted green gemstone  pendant drop, you will be complimented every time you wear it!
Due to the fact I got an amazing deal on these strands, I am able to share these at an unprecedented price...don't miss out!